WFH is MORE Secure
– Stel Valavanis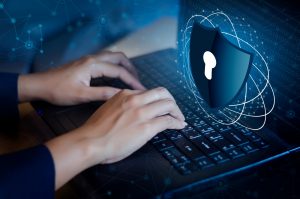 It's safe to say at this point in the pandemic remote work is here to stay. Many companies are deciding to keep remote work and hybrid options in place for the foreseeable future, and millions of workers are demanding this kind of flexibility.  Studies are showing that employees are maintaining, or even increasing productivity at home. Top reasons why include: fewer interruptions, quieter work environments, the lack of time and expenses associated with commuting, and more comfortable workspaces.
Now knowing that remote work will likely be here for the long haul, companies need to focus on building better security practices and maturing their security postures. To do this, companies need to do the following:
+Implement Zero Trust
Adopting zero trust can be crucial when securing your company's network. Zero trust is the idea that anyone could be an attacker, so users must readily prove who they are. Each user must comply with identity verification when trying to access company resources, even while already logged in. Also, limiting users' access within the network can help prevent an attacker from getting very far.
+Require MFA
Multi-factor authentication (MFA) is another critical resource for employees in a remote environment. It provides more secure login procedures when accessing company resources. MFA can divert potential security threats by having employees use authentication apps like Google Authenticator, which sends a time-sensitive code to the user's app. This additional login step can help to guarantee that the person who is trying to access these resources is who they say they are. 
+Utilize Tools That Secure Conversations
Working remotely has also created an opportunity for increased communication within the workplace. Processes can be documented in a way in which all parties that need information can easily find it. Previously some work may have been discussed in a face-to-face setting where things were agreed to or promised with no written record of the interaction. Now, online meetings can be recorded and saved to reference later. Software can be utilized for people to comment or create tangible tasks for themselves or others. This way of working eliminates the physical office as an attack vector, by moving important office communication to the secure network.
Overall, building a remote-first workplace is the safest way to go. Perhaps most surprisingly in terms of cybersecurity, the pandemic has taught us that remote work is not only secure but actually more secure than when we had been commuting to work every day.