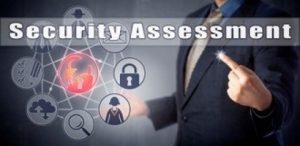 Cyber security is an important part of all businesses. In this day and age, cybercriminals target everyone— from one-man shops to large corporations— in an attempt to steal data, get access to private data, and bring down networks.
Many business owners believe that once they set up an online security plan, they can stop worrying about the online threats that could affect them. However, cyber security is not a one-time fix. It's an ongoing process that must be continually tweaked and improved upon. Having regular security assessments performed will help you stay on top of your security and ensure that your information is safe. Here are some reasons why these types of assessments are vital:
You Have Regulations to Follow
If you are in an industry that has to abide by regulations such as HIPAA, you need to be vigilant about your business' online security. One wrong email or download and you could not only be facing a compromised network, but also thousands of dollars in fines and loss of client trust.
To Keep Up on the Threat Landscape
Cybercriminals are constantly looking for new and different ways to take advantage of unsuspecting business owners. Because their methods are always changing, your security needs to change as well. Regular assessments will help you recognize the new threats that are emerging and ensure that you have the proper measures in place to guard against them.
To Stay Aware of New Security Measures Available
The online security industry changes at a rapid pace to keep up with new threats and technology. If you do not have ongoing security assessments, you may not be aware of some of the new tech that could save your business time and money. When you regularly meet with an online security professional, you can stay educated about the best products and services available and make an informed decision when it comes to the measures you choose.
To Identify Gaps or Red Flags
Penetration testing is a term used when cyber professionals try to hack into your system to see where the weaknesses are. This is a valuable method that can be implemented during regular security assessments. No matter how much security you have in place, you may not know gaps exist until an attack happens. Penetration testing will make these gaps visible and alert you to any other red flags that could compromise your security.
To Give Your Clients Peace of Mind
When you regularly perform security assessments, promote it to your clients so they know you are staying on top of the latest threats. This will give them peace of mind that any data they send or communication they have with your company will stay private and secure. Developing the image of a company that is aware of and prepared for cybercrime will lead to increased client confidence and company growth.
Cyber security should be a concern for every business owner, no matter how large or small their company is. By performing periodic security assessments, you can ensure that your network is prepared should an attack happen. If you'd like more information on security assessments, contact us at onShore Security today.